A 'Green' choice
People using our woodland now use a variety of
amazing, biodegradable, natural products such
as wicker, banana leaves, pandanus, hyacinth,
seagrass, abaca etc to create stunning yet
robust beautiful coffins, caskets and urns.

'Let your last footprint be a green one...'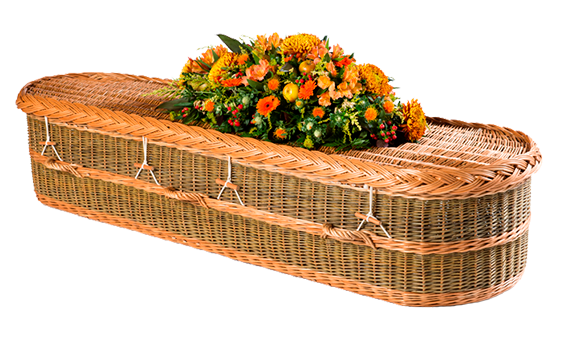 Environmentally friendly coffins, caskets and urns
Often people are surprised to learn that coffins destined for both cremation and ordinary burial are usually made of MDF, or chipboard bonded with formaldehyde resin, with plastic handles and synthetic veneers. We never use these for woodland burial since they are not environmentally friendly and do not naturally decompose in the ground.
Those choosing a woodland burial will be asked to consider carefully the coffin/casket/urn which they wish to use to ensure that it adheres to the environmental objectives of the woodland namely that it is made of natural materials such as real wood, wicker, or bamboo etc that will degrade over time.
It does not need to be expensive either... we never cease to be amazed at the variety of green containers our clients use for the cremated remains of their loved ones. We have had port wine boxes, whiskey containers, boxes which husbands or family have made at school and even strong paper bags. Anything which is natural and biodegradable is suitable.
Your funeral director will normally have a wide selection to choose from (such as the examples in the galleries below). Alternatively, in our ' Related Links' section you will find some direct links to coffin/urn company's - or maybe downloading a 'coffin choice form' (courtesy of Ecoffins) will suffice.