The Natural Death Centre is an amazing resource and their official publication, More to Death, addresses so many issues surrounding death and the support industry that has built up around it.
It guides and tackles issues head on, changing the perception and attitudes that surround death, loss, grief and so much more. A publication that opens peoples eyes and allows them to view it all in a totally different light.
Newsletters are presented in reverse chronological order - the latest editions first.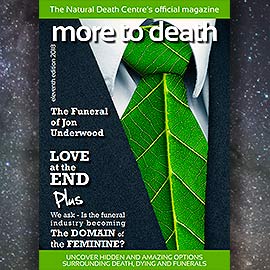 Winter 2018
Issue 11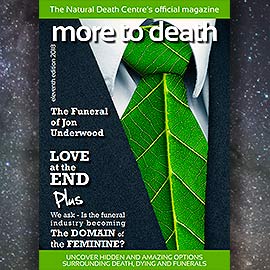 Articles include:- Why go Direct, Love at the End, Undercover, Hidden and Amazing Options surrounding Death, Dying and Funerals plus the Funeral of Jon Underwood and more.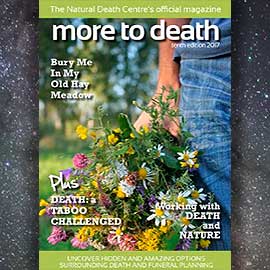 Summer 2017
Issue 10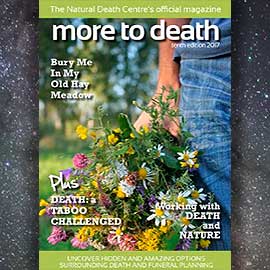 Articles include:- Working with death & nature. Death, a taboo challenged. Do we really need words at a funeral? Full Circle Productions; a live show about death. As always, there is so much more!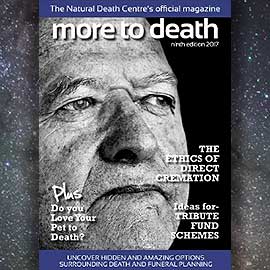 New Year 2017
Issue 9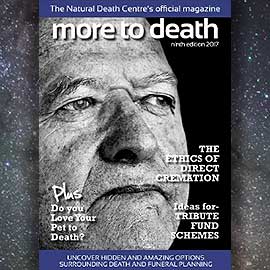 Articles include:- The ethics of direct cremation, tribute fund schemes, rethinking the approach to death, sensitivity for crime scenes, and the Good Funeral Awards - to mention but a few!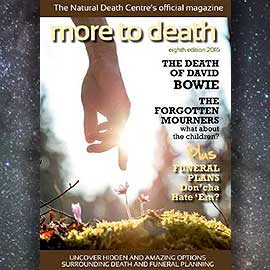 Summer 2016
Issue 8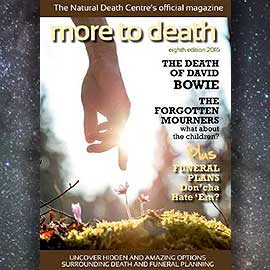 Articles include:- The death of David Bowie. Funeral Plans. Children and mourning. Your life is special - shouldn't your funeral be too? How to be a funeral director and more...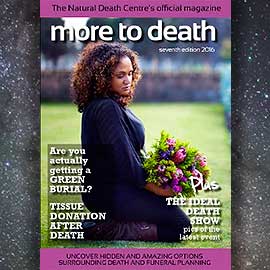 Winter 2015
Issue 7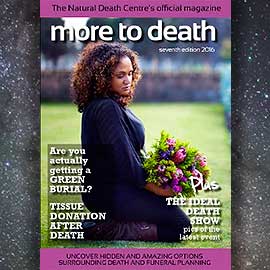 Articles include:- Are you actually getting a green burial? Tissue donation after death. The ideal death show and so much more as you uncover the amazing options surrounding death and funeral planning.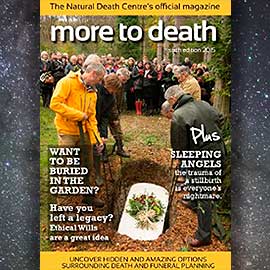 Summer 2015
Issue 6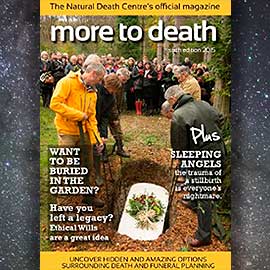 Articles include:- Want to be buried in the garden? Sleeping Angels - the trauma of a still birth. Have you left a legacy - ethical wills are a great idea. Familial communication and more...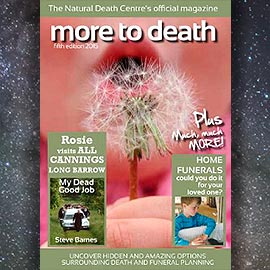 Winter 2014
Issue 5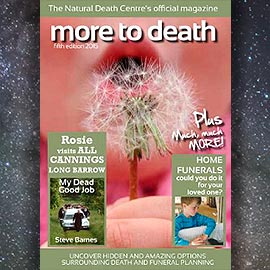 Articles include:- Home funerals - could you do it for your loved one? All Cannings long barrow. My Dead Good Job by Steve Barnes. Care in death. Living, dying and funerals plus so much more...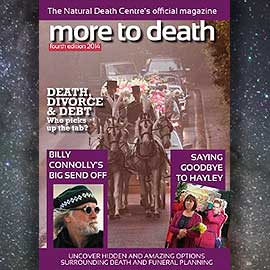 Summer 2014
Issue 4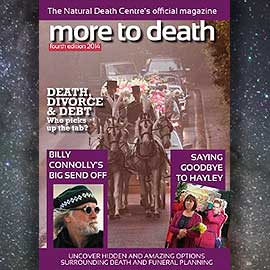 Articles include:- Billy Connolly's big send off. Saying goodbye to Hayley. Death, divorce and Debt - who picks up the tab? What exactly are professional services? Love at the end and much more...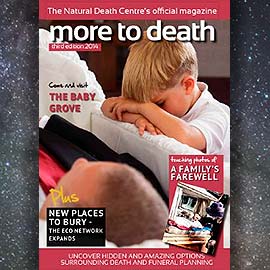 New Year 2014
Issue 3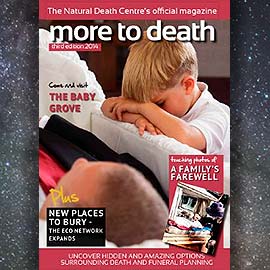 Articles include:- Come and visit the Baby Grove. New places to bury - the eco network expands. Touching photos of a family's farewell. Days of the Dead Event - celebrating Mexican style in Minstead and more...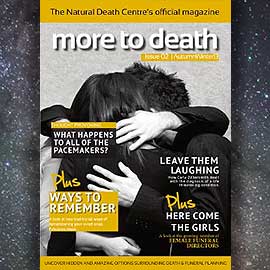 Summer 2013
Issue 2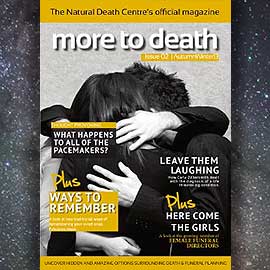 Articles include:- What happens to all the pacemakers? Leave them laughing - dealing with a life threatening condition. Ways to remember - less traditional ways of remembering. A look at the growing number of female funeral directors plus so much more...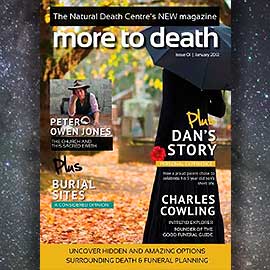 New Year 2013
Issue 1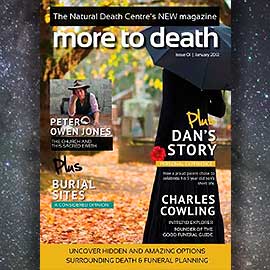 Articles include:- Peter Owen Jones - the Church and this sacred earth. Burial sites - a considered option. Charles Cowling - founder of the Good Funeral Guide. A personal experience - how a parent chose to celebrate their son's short life, and so much more.
Notes
We have been advertising in this publication since the early days because we feel that it offers a valuable insight into death, grief and the industry as a whole; genuinely an eye opener for all that read it.
Whilst the publications can be accessed here for convenience in PDF format, the official flipping book version can be found online here, More to Death together with other publications under Jayne Lea's name.
We obviously cannot accept any responsibility or credit for the articles contained in the above publications. All related linkes that you find within the publications will lead to third party websites that we have no control over.
We welcome Rosie Inman-Cook's offer to 'spread the information you may learn from this publication, plagiarise at will...' It's the only way to truly effect change, attitudes and educate. Thank you and thank you to all those that contribute.